---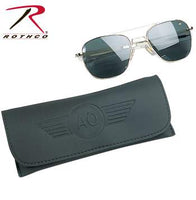 AO Eyewear American Optical Original Pilots Sunglasses are genuine government Air Force Pilots Sunglasses with polarized, impact resistant grey polycarbonate lenses. These true aviator style sunglasses are made by the #1 government supplier. American Optical Aviators feature impact-resistant polarized lenses, block 100% of UVB Rays & 98% UVA rays, and have bayonet temples. AO Glasses also come with a carrying case and in your choice of gold or chrome frames.

Available 1/19/2021
polycarbonate

American Optics Eyewear
Made in USA

Lens Specs: 55MM Polarized Lenses

How to Measure for Frame Sizing

Stand in front of a mirror.
Hold a ruler so one end is lined up with your right temple and so that ruler goes over the bridge of your nose.
Measure the distance between your temples to the nearest 1/4 inch. Accuracy to 1/8th inch is even better. Keep ruler straight. Do not bend.
Use the chart below to determine the frame size that would be the best fit and suit your face.

52mm Frame ......................... Up to 5 in (127mm)

55mm Frame ......................... 5 in to 5 1/2 in (128mm - 140mm)

57 and 58mm Frame .................. 5 1/2in to 6 in (141mm - 152mm)

* Temple Length is determined by frame size.