---
Theses Tactical BDU (Battle Dress Uniform) Pants are designed with combat-tested elements to withstand wear and tear from any challenge that comes your way.
Tactical BDU Pants Are Built To Withstand Wear And Tear With Long-Lasting 55% Cotton / 45% Polyester Material
Combat-Tested Reinforced Seat And Knees Provide Unparalleled Resiliency
Two Front Slash Pockets
Two Large Button Down Pleated Bellow Cargo Pockets
Two Button Down Back Pockets
Classic Military Button Fly
Adjustable Waist Tabs For The Perfect Fit
Drawstring Ankle Ties To Cinch The Military Fatigue Pants Around Your Ankle Or Blouse Over Your Boot
Double Stitched Seam Construction
Modeled After The U.S. Military's Standard Issue Battle Dress Uniform (BDU)
6
Adjustable waist tabs, Reinforced Seat and Knees, Drawstring Bottoms
XSML- waist 27 inch, . SM waist 31 inches MED- waist 35 inches LRG 39 incheswaist XLRG 44 incheswaist. 2XL 47 inches 3LRG 51'' waist 4xl 55 inches waist 5xl 59 inches waist 6xl 63 incheswaist 7xl 67 inches waist
Cotton, Polyester
Construction: 87x50/20x14
All Weather
Buttons, Drawstring

Tactical BDU Pants
Size
Waist (Inches)
Hip (Inches)
Regular Inseam (Inches)
XS
23-27
40.00
32.50
S
27-31
44.00
32.50
M
31-35
48.00
32.50
L
35-39
52.00
32.50
XL
39-43
56.00
32.50
2XL
43-47
60.00
32.50
3XL
47-51
65.00
32.50
4XL
51-55
70.00
32.50
5XL
55-59
72.00
32.50
6XL
59-63
76.00
32.50
7XL
63-66
80.00
32.50
8XL
66-71
84.00
32.50
9XL
71-75
88.00
32.50

Short Inseam (Inches) - 29.50

Long Inseam (Inches) - 35.50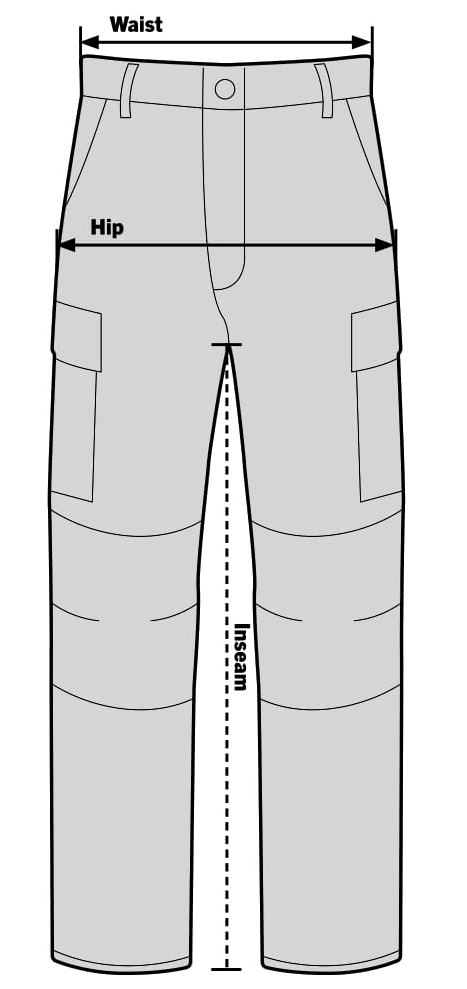 How to Measure:
Measure horizontally from end to end where the belt loops are located for the waist. For the hip width, measure horizontally from cargo side pocket to cargo side pocket. The inseam length can be found by measuring from the crotch down the end of the BDU Pants. Use the chart to find your measurement.